Annual NITK Project Expo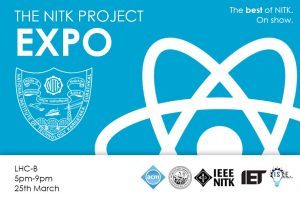 Ever been curious to see a robotic arm, make a drone? Or wanted to go deep into the world of artificial intelligence? Or simply wanted to see how banks could prevent a Vijay Mallya – Nirav Modi like scenario from happening again?_
We, the Exclusive Technical clubs of NITK present to you, for the first time in NITK, our Annual Project Expo.
Multiple projects covering all strata of science, engineering and business will be on display by Executive Members from NITK Student Chapters of IEEE, ISTE, ACM, IE and IET.
*Venue:* LHC-B (NTB)
*Date:* Monday, March 25th
*Time:* 5:30PM – 9 PM
We hope to see you there and ensure you make most of the experience.